Gap-tastic is the second most popular cowl on Ravelry. It has over 13,000 posted projects. I have knit this design a few times and was planning for a couple more as Christmas gifts. I thought why not have a little Gap-tastic Knit-a-long.
Gap-tastic KAL
Monday, October 20, 27
1:00pm - 3:00pm
Prerequisites - knitter must be familiar with basic knit stitches, this pattern only requires knit and purl
This is a Knit-a-long which means minimal instruction provided but we will help you adjust the pattern to suit the yarn and size you would like.
I will be demonstrating a particular cast on called crochet cast on which you might like to use with this pattern. With crochet cast on, your cast on edge looks exactly the same as your cast off and is an attractive detail for a cowl where cast on and cast off are both visible, sometimes side by side.
The KAL is FREE. We just ask you be knitting with yarn purchased at Serenity Knits.
Gap-tastic Cowl by Jen Giegly
http://www.ravelry.com/patterns/library/gap-tastic-cowl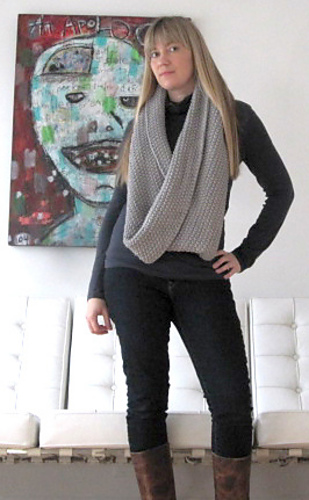 The original design, shown above, is a very large cowl, knit in bulky yarn - 9sts/4 inches on a 9mm circular. It is a very adaptable design which can basically be knit in any yarn you wish, to any size you like, it just requires a little math.
It is shown below in Berroco Vintage Chunky which knits at 14sts/4inches on a 6mm. I personally prefer that weight and needle size.
It is attractive in self striping yarns like Noro or Classic Elite Liberty Wool Print.
One of the things I like about this cowl, is its versatility; It can be worn long, like a scarf, It can be wound around two or three times depending on the length you knit and it can be wound more than once with one loop over your head to double as a hat/hood like the Raveler below.
So pick out your yarn, decide what size (ie circumference, it is knit in the round) and I will help you with the math to alter the pattern.
This a FREE Knit-a-long, but please give us a call so we know you are coming.
Supplies needed
Download the Pattern from Ravelry- use the link below
http://www.ravelry.com/patterns/library/gap-tastic-cowl
While you are on Ravelry you can view the projects posted to get some idea of the yarn weights and finished cowl size you might prefer
Yarn - you choose, again, please use yarn from Serenity Knits
Needles - a 36" circular in a size suitable for the weight of yarn you will be using, probably in the range of 4.5mm through 6mm if you select worsted to chunky yarns, 9mm if you go with the original design.
Crochet hook the same size as needle you are going to be knitting with
Pencil, paper, ruler, tape measure & calculator - to do the math and transcribe your pattern once we figure it out.
One O style stitch marker
Beth
Happy Knitting